© 2013 SIDERNAVAL - SMS Siemag

All rights reserved
Reproduction only with the permission of
SIDERNAVAL-SMS Siemag AG
MEETING your EXPECTATIONS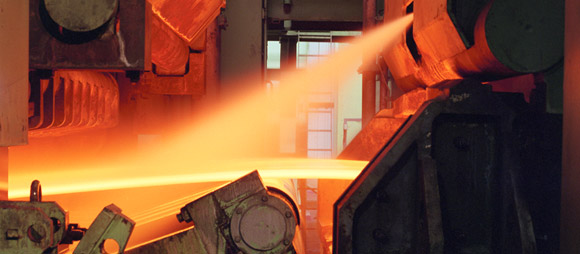 Sidernaval, Equipos Siderúrgicos S.A., es una compañía miembro del holding alemán SMS Group, uno de los principales suministradores mundiales de tecnología y equipos para la industria del acero.
Con más de 45 años de experiencia en el sector metalúrgico, realizamos las actividades de desarrollo de Ingeniería, Suministro de Equipos, Supervisión de trabajos de Puesta en Marcha y Montaje, así como formación y servicios integrales post-venta.
Todo ello para proporcionar a nuestros clientes la solución técnica óptima y adecuada para los sistemas de
Depuración de Humos de Acerías basados en la Tecnologia de Limpieza mediante Filtros de Mangas
.
Puede acceder a la web de nuestro grupo:
SMS group
.
Comunicados de prensa
As Consortium Leader, SMS Group supplies Turnkey Production Plant for the manufacture of railroad wheels to RINL

When rolling machine of the type DRAW 1250 forms railroad wheels with 13 CNC-controlled axes to a diameter of up to 1,200 milimeters fully automatically.

Indian steel producer Rashtriya Ispat Nigam Limited (RINL) has placed an order with SMS group to supply a plant for the manufacture of railroad wheels. From the fall of...


more
Ferias / Eventos
20-23 Sept., INNOTRANS, Berlin, Germany
21-24 Sept., METAFORM, Beijing, China
26-30 Sept., 46th Steelmaking Seminar International, Rio de Janeiro, Brazil
26-29 Sept., Tube & Wire, Shanghai, China
05-07 Oct., Tube & Wire India, Mumbai, India
09-13 Oct., PM World Congress, Hamburg, Germany
24-26 Oct., ALACERO, Rio de Janeiro, Brazil